NEW! NEW!
Cloud 9 Tours is small service provided by a group of dedicated professional storm chasers. Other chasers have mentioned that a first time chaser should go along with experienced chasers, yet not too many experienced chasers are willing to take novices with them. This is the perfect opportunity for the novice to learn how it is done.
We offer tours for a six week period during the peak of tornado season. There are three two-week periods:
Click here for availability.

| | | |
| --- | --- | --- |
| May 4 | - May 17 | Full! |
| May 18 | - May 31 | |
| June 1 | - June 14 | |
Check out a list of available equipment.
Click here for 1998 tour information.
Reservations are on a first come-first serve basis, so we urge you to reserve your spot early. Our chase territory extends from Texas to North Dakota, from the Rockies to Indiana. We go where ever the best storms are likely. Depending on the event, we may chase in a caravan of two or more vehicles. At the end of our chase season, we will provide a highlights video free of charge to all our customers.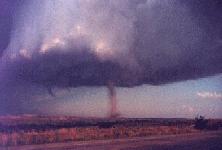 Tours will be $1,700 for the two week periods including lodging and ground transportation, or $1,000 without the lodging. There will be a $50 non refundable deposit to make your reservations. The deposit will go toward the price of the tour. We accept payments in the form of cash or check only. Payment will be due upon arrival. We will be staying in hotels/motels at strategic locations as the weather dictates. Customers will have private rooms where available. Snacks will be provided on the road. Customers will be responsible for meals. We will usually stop in locations with at least some motel selection options for the customers who want to select their lodging options. We will provide lodging information in the Norman area.
Absolutely no smoking will be permitted in the vehicles. Whether or not you chase with us, we hope you have a good chase season.
Tours available to people 18 years old and up only.
For more details about me and some of my past chases, visit the Bears Cage.
You can contact me at: [email protected]
Charles Edwards
1338 F Crown Point
Norman, Ok. 73072
(405) 447-3171
This page has been accessed

times since October 3, 1996.