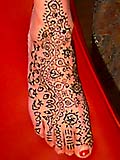 You may have already seen No Doubt's Gwen Stefani wearing beautiful lace-like tattoos in her video or perhaps Naomi Campbell's detailed shoulder in a recent Harper's Bazaar layout. Well, these beautiful designs are called Mehndi, and it hit the popular scene just last summer with an opening at a New York City gallery. Now there's a new exhibit on the West Coast featuring this unique body art.
Mehndi artist Loretta Roome decided that Los Angeles, famous for its exhibitionist tendencies, would be a perfect place to introduce the ancient Indian art of henna body painting that's fast becoming a painless alternative to tattooing.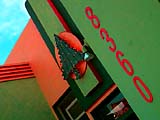 Roome and seven other Mehndi artists, including her teacher, Rani Patel, got together to form the "Mehndi Project," which debuted January 16th at Galerie LaKaye in Beverly Hills.
The gallery is a small, rectangular-shaped space with warm light coming through the sheer, white curtains and soothing Indian music playing in the background. The artists have set up a sort of salon area in the corner with an L-shaped banquette lined with pillows, where the client lays while the Mehndi is being applied. There's a low, round table filled with bowls and small bottles of the henna paste and a lemon juice solution that is applied after the design is completed.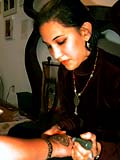 The henna paste is a completely herbal compound, so there are essentially no known health risks involved. And, depending on how long you leave the paste on, it will dye the skin a reddish-brown that will last up to one month. Prices range from $20.00 for a small design and go up from there.
At Galerie LaKaye you can propose your own design or, for something more authentic, you can look through a selection of Indian prints. Unlike traditional Mehndi, which is done only as decoration on hands and feet, nowadays people are having it done wherever it strikes their fancy.
On a recent visit to the gallery, one woman was laying patiently as a Mehndi artist was decorating her navel, while another woman was having her foot done. Gallery owner Carine Fabius, obviously a fan of her new exhibit, came over to take a look at the work and exclaimed, "Oh my god, it's so beautiful who's ever gonna want to wear shoes again?" That probably means the other big trend this summer will be strappy sandals.
Mehndi has many traditional meanings, depending on the North African or Indian culture. "August is a holy month in India and we fast," a soft-spoken Patel tells me. "The women and girls do Mehndi painting on each other and it is a form of meditation for the one applying it. The designs can take hours to complete."
Although some of the value of the significance of Mehndi is bound to be lost in this gobble-them-up, spit-them-out trendy culture, the beauty of the designs is enough to speak for itself.
"We've already had a great response," says Fabius, just two days after its opening. "We had about 400 people here for opening night and about fifty people a day since then."
The great response has prompted the gallery to say that while the exhibition of Mehndi art work -- which includes a collection of beautiful photographs -- will terminate mid-February, the "Mehndi Project" will go on indefinitely.
---

Frequently Asked Questions
(Courtesy of Galerie Lakaye)

How long does it last?
The designs will last anywhere from one to four weeks depending of the depth of the stain, the particular body area and how much that area is exposed to water, soap, or rubbing.

What color will it be after the mud comes off?
The color ranges from a transparent orange to a dark reddish-brown. Darkness depends on the area of the body, body temperature at the place of the design (warm palms will be the darkest), how well the mud is protected as it dries and, of course, how long the mud is left on. If possible, we recommend leaving it on overnight in which case you may wrap the area with tissue.

Galerie LaKaye is located at 8360 W. 3rd Street in Los Angeles. Their phone number is (213) 653-1724.