Welcome to Dave's Wonderful World of Yo-Yos, the first site for Yo-Yo Collectors on the web !!!

I created this site for several reasons. First, to promote the collecting of yo-yos and yo-yo memorabilia as a hobby. This site is a forum where yo-yo collectors and enthusiasts can view and discuss collectible items. In a way, this is an online museum, but it is also an archive. If you are a collector, please read the list of Goals for this site to find out how you can help. Your participation is needed to help keep this site alive !!!
Also, as a yo-yo collector, I am always looking for old and unusual items to fill in the gaps in my own collection. Many of the yo-yos and collectibles pictured here are on my own "Most Wanted List." I hope this site will help me track down some of these items. But my want list is not limited to the yo-yos and memorabilia pictured. Basicially, if it's a yo-yo or has anything to do with yo-yos, and I don't have it in my collection, I Want It !!!
If you have any yo-yos or yo-yo related items that you would consider selling, please E-Mail Me. My address and phone number are also listed at the bottom of this page. I am always interested in buying old and unusual yo-yos and memorabilia. I consider all quantities and qualities, and will buy duplicate items if I believe they are tradable. Like any other collectible, value is based upon age, scarcity, and condition. Yo-Yo collectors watch for a number of things when determining the condition and value of a collectible item. I hope my Guidelines for evaluating condition prove helpful.
Even if you are not interested in selling anything, but have some interesting stories to tell about yo-yos, please contact me. Maybe you were the neighborhood champion years ago, or perhaps a demonstrator. Please tell me your story. I am always interested in adding more information to the history of the yo-yo. Your story or old yo-yo may be an important part of that history.
Dave's Wonderful World of Yo-Yos is best viewed with Netscape, and at a resolution of 640 by 480 pixels. Since this is my first webpage, I'm not sure how other browsers will react to it. If you have any viewing problems, please let me know. Also, because this is an online museum, there are a large number of images to load. A 28,800 bps modem is suggested and even then, you will have to be patient. To get the optimum view of these yo-yo treasures, you may want to download some of the images. Web browsers often don't do the pictures justice. So much for the preliminaries ... let's go look at some Cool Yo Stuff !!!!
---
The information included with each item is the best I have at this time. But it may not be 100% accurate. In any network of collectors, you sometimes get fifth hand story, passed down from an original source that didn't have a clue in the first place. Please contact me if you have better information. This is one of the primary goals of Dave's Wonderful World of Yo-Yos ... to create an archive of accurate information ... to seek out new yo-yos and new memorabilia ... to boldly go where no yo-yo collector has gone before !!!
---
Please Select from the Following Catagories, or Check Out What's New at Dave's.


---
Well, that's it for the main page of Dave's Wonderful World of Yo-Yos !!! Please get in touch with me and tell me what you think. You feedback is important. If you have photos of interesting things you'd like for me to post, let me know. If you have better information on the items pictured, tell me. Please share your information and pictures. If we pull it all together in one place, where it is accessible to all collectors, we all benefit. Let's weed out the misinformation and get down to the facts.
There will be monthly ( I hope ) additions to this web site. These should be similar to the museum links of this page, but shorter ... probably just two or three items per section. Also, I plan to add a variety of special topics and some more fun things. This will include your feedback and anything else interesting dealing with yo-yos. To check for these additions, select the fourth link listed in the Museum Guide, Even More Cool Yo Stuff !!!
Please contact me if you have anything for sale, either by E-Mail , regular mail, or by phone. I'm always looking for more yo-yos and memorabilia to add to my collection.
---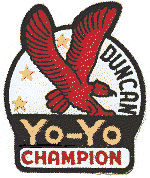 This page was created by :



David W. Hall, "The Yo-Yo Collector"
1304 Manzano NE
Albuquerque, NM 87110
USA

Phone : (505) 268-5651
E-mail : [email protected]

---

Visitors Since July 1, 1996
Web Site Awards and Honors




Dave's Wonderful World of Yo-Yos, Main Page
Last Updated : September 27, 1996
---