Archived Pages from 20th Century!!
Pages dedicated to one of the guitar's living legends. Created by Marcus Taylor at the University of Warwick.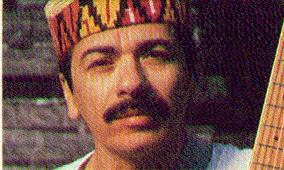 LATEST ADDITIONS:

New CD released: Santana - Live at the Fillmore, 1968 (see discography).

Abolengo - Toronto's latin fire!

The History of the Santana band.

Commercial site with info on the Carlos Santana CD-ROM.

If there's anything you'd like to see, drop me a line.
Here are my pages.
An introduction to Carlos Santana.

Links to off-site Santana and Santana related pages.

The History of the Santana band.

Carlos and Blues Legend John Lee Hooker (Also With Junior Wells).

Azteca and Abraxas (the Santana related groups).

Percussion video by Raul and Karl.

SERRANO, who are a latin-rock band from New York.

Carlos playing on In From The Storm.

Carlos playing in the film Desperado.
---
---
---
Introduction to Carlos Santana.
This introduction does not concentrate on the man himself. For this you should read the article in Hispanic Online as it is a great essay on Carlos and his philosophy.
For those of you who are new to the latin-rock genre and Carlos Santana in particular, here is a short guide. Carlos (born in Autlan de Navarro, Jalisco, Mexico
, 1947) and his original band burst onto the music scene at Woodstock in 1969. Despite being a young inexperienced group (drummer Michael Shrieve was a tender 16) they stole the show. Their Woodstock version of Soul Sacrifice was the highlight of the concert, Jimi Hendrix said he really liked the band. After this they recorded their first album through a recording contract with Columbia. Three albums followed which are arguably their greatest: Santana, Abraxas and the imaginatively titled `Third Album'. Personel changes then rocked the band and have been a constant factor ever since. Carlos is all that remains of the original band. Since then, Santana have released about 27 (!!) more albums. Some highlights include Live! (1972 with Buddy Miles, jazzy), Caravanserai (1973, jazzy), Borboletta (1974, more soul), Inner Secrets (1978, rocky disco), Sacred fire (1993, live in Mexico). A brilliant general overview is Viva Santana. Please see the discography for reviews. For a more complete group history with band member listings try my History of the Santana band.
Carlos' music is a mixture of many styles. The common theme is the latin beat which comes from his latino heritage. This is a guitar player who admired the phrasing of the trumpet players that he witnessed growing up in Mexico. Currently, on top of this latin back beat Carlos adds an improvisational jazz/rock/blues guitar style. The band is also well known for its keyboard players, such as Gregg Rolie and (currently) Chester Thompson.
---
Desperado.
Carlos played on the soundtrack for the Rodriguez film Desperado. His playing of Bella (Blues for Salvador album) excellently reciprocated the stormy and tempestous love scene that was occuring on screen but it has to be asked what Carlos was doing playing in a film of that genre. Perhaps he liked the Banderas comment "It's easier to pull a trigger than to play the guitar; easier to destroy than to create". Well, I supose it was all very tongue in cheek stuff. Los Lobos provide most of the music and do a typically good job of it. A soundtrack is available. The film as a whole, however, is not a patch on the original El Mariachi, an earlier Rodriguez effort which Desperado is an English language version of.
---
Request:
If anyone out there has any links to Santana, Malo or Azteca related pages please let me know. I'm always searching for them myself. Also, if you have any other latin-rock or related links I'd love to put them down.
Cheers and Peace!
---
---