Wishbone Ash was formed in 1969 by bassist/vocalist Martin Turner and drummer Steve Upton. They and their manager, the young Miles Copeland, advertised in the London music papers for a guitarist. The best of those who answered, Ted Turner and Andy Powell, were so good that Steve and Martin could not make a choice between them. They decided to keep both guitarists, rather than hiring a keyboardist as they had originally planned, and the twin lead guitar sound was born.
Wishbone played their first gig in November 1969, at the Dunstable Civic Hall. They supported Deep Purple at the same venue in May of 1970, and Purple's producer, Derek Lawrence, was impressed enough to get them a record contract. Their first album, "Wishbone Ash" was released in December of that year. It contained the song "Phoenix", arguably the band's masterpiece and certainly a fine showcase for their dual guitar artistry. Two years later Wishbone's third album, "Argus" earned Melody Maker magazine's accolade "Best British Album of the Year". "Argus" was awarded a gold record, and both Ted and Andy were included among Rolling Stone's top twenty guitarists of all time.
Ted left the band in June of 1974, and was replaced by Laurie Wisefield, a founding member of the band Home. Laurie remained with Wishbone for twelve years, as they toured Europe, the U.S., Japan, and Asia, and released an album a year. In September 1980 Martin left Wishbone, and the line-up fluctuated over the next few years. Laurie left at the end of 1985, and in 1986 Miles Copeland, by now the head of I.R.S. Records, contacted Andy and Ted about the possibility of Wishbone recording an all-instrumental album for his "No Speak" series. The result was the re-formation of the original line-up for three albums, "Nouveau Calls", "Here to Hear", and "Strange Affair".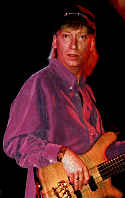 In 1991 both Steve and Martin left the band, and by 1994 Ted had also had enough. The only original member, Andy Powell, has since put together several line-ups, all of which have given fans the authentic "Ash experience". A 1994 European tour, featuring the team of Andy Powell, Roger Filgate, Tony Kishman and Mike Sturgis, culminated in the recording of the album "Live in Geneva". In 1996 Wishbone released their first studio album in several years. Titled "Illuminations", it shows off the band's unique trademark harmony guitar work beautifully. 1997 saw the release of a four-CD box set, "Distillation", that showcases Wishbone's work over the years from 1970 to 1995.
The current band, Andy Powell, Bob Skeat, Mark Birch and Mike Sturgis, with Ray Weston filling in on drums from time to time, is presently touring in Europe and the U.K. Plans for the long-anticipated acoustic album "Bare Bones" are still firmly in place, and should see the light of day in the late summer of '98.
You, the WISHBONE ASH FAN, are among the most loyal in the world. So, help us spread the word that the ASH are alive and well and residing on the World Wide Web.
The Webmaster's Pub
Greetings "Boneheads", and welcome back to the Webmasters Pub!
There's lots to talk about this month - so much so that I really don't know where to begin. Back in December of last year, I was informed of coming changes in the Wishbone Ash line-up. After the fall UK tour, Roger Filgate told Andy that he was leaving the band to pursue other musical opportunities. Tony also let Andy know that he would be unavailable for touring during the first part of 1998. Tony is involved in promotion of his solo album, but has kept the door open for collaboration with Andy on future projects.
So Mr. Powell began assembling the next incarnation of Wishbone Ash, calling on friends Bob Skeat and Mark Birch. A professional musician's son, Bob is a veteran bass player and backing vocalist. His background includes studio work with the likes of Toyah Wildox, Princess Stephanie of Monaco, Gilbert O'Sullivan, Colin Blunstone, Lisa Dominique and F.M. He is the recipient of several song writing awards. Mark is an excellent guitarist, and a vocalist to boot. His credits include Frank Dunnery (It Bites), Brix Smith (The Fall) Bad Manners, and Steve Overland. Like Bob, he is a veteran studio player.
I held back all this information because I felt I owed this new line-up a chance to get out on the road and show the fans what they're made of. The reports have started to come in, and there is nothing but praise for the new band. The caliber of musicianship is as good as if no changes had taken place. As a matter of fact, some long-time fans are calling this the best incarnation of Wishbone Ash ever.
After his 28 years of dedication and loyalty to the band and its fans, we can recognize that Andy Powell IS Wishbone Ash. That dedication and his hard work have kept the band going, even after some of the so-called founding members quit not just once, but twice.
Can you imagine a band going out as Wishbone Ash without "he of the Flying V"? Well, neither can I. As much as I respect the contributions of the former members of the band, it's time to move on. They must take the music into the year 2000 without compromising the integrity of what has come before. Andy has the foresight to see that the future lies with young, talented, new musicians who can bring fresh musical ideas to the Wishbone sound.
I support Andy and his decision to move on. If what I'm hearing so far from the road is any indication, we are in for many more years of the outstanding music that we have come to expect from Wishbone Ash.
For reviews and fan reaction to the new line-up look in the Live Dates section.
---
"Trance Visionary"
Escapes on March 30th!
by Nick Smith
What have experimental club rhythms got in common with progressive guitar-based rock? At first glance there wouldn't appear to be a great deal. But that's probably because, with the exception of an extremely small minority of artists, the world believes that the guitar and dance music don't mix. Included in that adventrious minority are the legendary Wishbone Ash, who have entered the debate with the disarmingly modernistic recording "Trance Visionary"
How the "Trance Visionary" project came about is largely due to a meeting between Wishbone Ash frontman Andy Powell and award-winning UK based producer Mike Bennett. He's not a man you would immediately associate with progressive guitar bands, having made his name through a long_standing association with Manchester agit-pop anti-group The Fall. Parallel to his career producing The Fall, he's also been responsible for a deluge of first and second generation music in the genres of drum n bass, jungle and trance, and has recently been resposnsible for acclaimed remixes of Bob Marley and the Wailers, Gregory Isaacs, Dennis Brown and dub pioneer Lee Scratch Perry.
Over the next few months Powell and Bennett were to expand the idea in order to embrace elements of trance and drum n bass, while at the same time trying hard to maintain the projects own originality. The treatment Bennett had given the remix project had intrigued Powell, but the difference with "Trance Visionary" was that through the various discussions and creative tangents a brand new piece of work was originated from the Wishbone laboratory.
If there is a problem with fusing the two disparate musical stances then the problem is all in the mind. Critics will be anxious to categorize the album, when there's no real need. What does it really matter if people want to call it medieval dance or madrigal house? There are elements of drum n bass and trance in there, but they're really used as a backdrop to present the Wishbone Ash guitar. Mike Bennett call it "Guitar-based experimental music, with filmic qualities and evocative imagery". And when asked about the approach to the recording process, Bennett describes it as, "Deconstructing Andy Powells acoustic and electric guitar structures, and then rebuilding them in a trance idiom." Die-hard fans will recognize the traditional values, the musicality and the otherworldliness of the compositions, while dance aficionados will see more than a hint of the Prodigy here and there. It will win the band a new following and enchant the existing fan base. Although "Trance Visionary" is different from anything this enduring group have done before, it is a logical extension of what they're about. Everything you hear is organic and real.
Nick Smith writes for numerous music magazines, including The Mix, Future Music, Live, Guitarist and Total Guitar. He is the former executive editor of Studio Sound and contributing editor to Pro-Sound News.
---
Mark Chatterton tells me that the release dates on "Just Testing" and "No Smoke Without Fire" have been pushed back until late April or early May. Rest assured, they are finished (complete with bonus tracks) and are just awaiting an official release date. We hope to have word from MCA before the end of the month.
---
"For U.S. Fans Only!"
It seems that the whole world gets to see Wishbone Ash perform live, except fans living in the USA. Well, it's time to take matters into our own hands and put pressure on the booking agency, Skyline Music.
I now know the E-Mail addresses of all the agents working for Skyline Music. What we, and I do mean WE, need to do is relentlessly fill their E-Mail boxes with letters about how much we would appreciate some US bookings for the band in the near future. These people need to be constantly reminded that there are fans of the band out there who want to see them play live.
If you're as tired as I am of this lack of attention to our favorite band, and want to join in on the fight to see them live, click here and send Skyline your letter requesting dates for the band in your area. Please be respectful. We want to encourage them to get the band bookings,not turn them off.
---
"Live In Geneva"
The VIDEO
As most of you are aware by now, a fantastic video of the "Live In Geneva" concert was recorded, but has yet to be released. Apparently, Hengest Records owner Martin Looby is content to sit on this video, and deny fans around the world the best Wishbone Ash concert ever recorded.
Well, we forced MCA to finally release the bands' back catalogue, so now it's time to do it to Hengest. We need to flood the E-mail box at Hengest with requests for the "Live In Geneva" video. Strength in numbers seems to be the only thing record companies understand, and we have the numbers. If you'd like to see this video released before we're all in old folks' homes, send Martin Looby a note at: "[email protected]" letting him know of your disappointment that Hengest Records has chosen not to release the "Live In Geneva" video.
---
As always, you Wishbone Ash fans, through your continuing comments and suggestions, have made this one of the best and most informative band sites on the internet. Please continue to let the world know of our existence. The Wishbone Ash army continues to grow stronger and is uniting as never before. You guys are the best and most intelligent fans in the world, because you know! I'll leave it at that.
Cheers,
Leon & Coyote Red
Andy Powell's
"Ash" Update
Happy New Year to everyone, whether you are a regular to the site or just discovering it for the first time!
Itís amazing how eventful a two-week period can be. Wishbone put twelve dates together during November, coinciding with the annual Fan Club Convention. These were mostly in the Midlands and North of England (our apologies to you Southerners - we'll be remedying this in the New Year). The amount of work involved in preparing for a short run of dates is the same as for a long tour, but with our current team things ran very smoothly. I keep stressing Fan Power - more and more, these efforts are paying off for everyone and providing a lot of fun into the bargain. All the familiar faces were there: Jan Krynski, Pauline and Mike Holt, Peter Hingley, Andy Yates, Shep and Paul, Sandie and Nicky, Carol Farnworth, Mark Chatterton, Guy and Sue Roberts, Chris Brennan .. the list goes on, so forgive me if I donít mention everyone.
Luckily the convention was scheduled near the beginning of the tour, since after a few dates illness struck down the guitar section of the band. The Connecticut Kid was the first to succumb, complaining of a sinus infection, fever, and stomach cramps. Due to the fact that heíd just returned from the Far East, we were concerned that he might have picked up a tropical bug. He made it through to the Wirral Guitar Festival date on November 12th, but by the next day heíd become very weak. An ambulance was called, and Roger was admitted to Arrow Park Hospital for blood tests and IV support.
There was no question of his playing the show that night in Bradford, and we had to find a stand-in. When we played at the convention, Chris Auld of Moonstone joined us on stage for a couple of songs, so he was the natural choice. Although only 17, Chris plays like a 25-year old, and all the time that he's spent listening to the Ash was about to be put to good use. We called Chris, and Guy Roberts volunteered to pick him up. That evening saw us busy in the dressing room, running over guitar and vocal parts. Amazingly, he had a firm grasp of most of the set, including the intricacies of material like "No Joke" (which is a guitarist's nightmare)! The gig went off incredibly well, with Chris pulling some real surprises out of the bag. We still canít thank him enough - this boy is destined for great things! Roger rejoined us for the rest of the dates, and then it was my turn to get nailed with a chest infection. Still, at least we escaped the U.K. before the snow came!
The convention itself went beautifully. I was truly overwhelmed with the good vibes from everyone involved, especially Andy Yates and his team, who did a superb job of running the show. It was not only great to see so many familiar British faces, but also very pleasing to see Germany, France, Spain and the USA so well represented. Itís really a pleasure for the band to make contact with our audience in a situation like that, and we also made connections that will benefit the band and fans alike in future endeavors. Special thanks to Ash Bassist Supremo, Martin Turner, who came to the convention even though he couldn't be present on the rest of the tour. Thanks also to one-time band member Claire Hamill, who went the extra mile by joining in the bandís evening performance as well as presenting material from her new album during the afternoon. (As you may or may not know, Claire co-wrote the Ash classic, "Living Proof" with Laurie Wisefield). We also thank the bands Moonstone and Credo, who once again supplied everyone with some fine music.
TOURING Ď98
A European tour has been booked for February and March of 1998, including dates in the south of England, Ireland, Germany, Austria, and Holland. These are not yet "set in stone", but we thought it would be a good idea to let people know how things stand at this point.
TRANCE VISIONARY
Whatís this album? Wishbone Ash moving into the world of dance music (Jungle, Drum & Bass, Acid, Trance - call it what you will)? Yeah, thatís right - it's a little side project related to the thinking behind the production of "Nouveau Calls". Remember when New Age was all the rage? Well, right now dance music rules, but no one has yet produced a guitar-based dance record, at least so far as we know. So we formed a collaboration with Mike Bennett, a producer who has had no little success in this area, and is an old Ash fan to boot. Not for the faint hearted, this disc ďtakes no prisonersĒ and was produced almost as a reaction to the studied seriousness of ďIlluminationsĒ.
Running 60 minutes plus, "Trance Visionary" takes in a range of moods. It is mostly instrumental, employing samples and loops, although there are vocal highlights by Tacye, Miles Copeland, and a former lady Power Ranger. If you are the adventurous, open-minded sort, this is for you. If you are firmly rooted in 70ís Prog rock and song-based albums, stay away. (Personally, I love it....but then Iím biased!) The label, Invisible Hands, looks set to push out the boat on promotion, so keep a look out for it.
Cheers!
ANDY POWELL
Subscribe To The
Wishbone Ash Newsletter
So much news about the band comes in daily that it's almost impossible to reprint it all here on the web site. Instead of keeping these messages and updates to ourselves, we've decided to start a newsletter to pass this information on to you, the fans. If you'd like to become a subscriber to the mailing list, just fill in the form below. If you've already sent in your E-Mail address through the guest book, you don't have to do anything, your subscription is automatic.
-
Hit the "back" button on your browser to return to this page.

The M-Files
Be sure to check out the "M-Files" for biographical information & discographies about other great bands you may or may not have heard or heard about. Currently in the files, Arthur Lee & Love, Golden Earring, Thin Lizzy, Bryan Lee, Lynyrd Skynyrd and Wishbone Ash. "The Tunes Are Out There".
Special Thanks
Special thanks to: Andy Powell, Richard Powell, Jill Douglas (for all the current band photos), Andy Yates (for keeping me informed across the pond), Laurie Downing, Mark Chatterton, Dr. John, Les Scott, Richard Levine, Mel Crew, Kathy Nally, Fred Renz, Mike Mindel, Rainer Frilund, Rich & Kate Goldsmith, Carol Farnworth & Keith Curtis, Doreen Boyd, Penny Gibbons & Pauline Powell (for all the years of service in the "Wishbone Ash Club") and all who have sent E-Mail in support of the "ASH". Extra special thanks to my staff of one, Coyote Red. You guys are the best!!
This site was built to look and work best using
and