Archived Pages from 20th Century!!
Horus Gets In Gear
Horus' WWW Links to History Resources
---
The Door is Open! Come In!
Over 1700 links!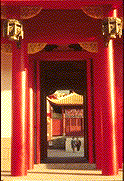 57 articles!
---
Clearinghouse
approved.
February 1996.
GNN Whole Internet Catalogue Select History.
February 1996.
NBNSOFT Content Awards
February 1996
---
Rest in Peace, Thomas S. Kuhn, 1922-1996
---

Horus is keeping the voting booth open for another month - get your vote in! Convinced by others' nominations? Submit a new vote!
---
Contents
Using Horus History Links
Online Services for Genealogists and Historians

Email and web hyperlinks make it easy for persons to contact you.

Do you do genealogical research for exchange or for hire?
Announce your services on Horus' Genealogists' Services board!

Announce the surnames on which you're doing research.

Need help finding your ancestors? Advertise on this online genealogy bulletin board.

Need help in your research? Advertise on this online history bulletin board.

Do you do historical research for hire?
Announce your services on Horus' Historians' Services board!

For history students - ask questions, share experience, answer queries. An electronic discussion board for all issues associated with study of history and being a history student - undergraduate and graduate.

Undergraduate and graduate students in History and allied fields - Announce your thesis topic; post queries, solicit resources, and request comments about your thesis research; make contacts in the profession.

---

Horus Info | Online Services | Links

---

Link Collections

Search Horus' Link Collections

Horus Info | Online Services | Links

---

You may also wish to consult:

---

Other Citations of Horus' History Links