Archived Pages from 20th Century!!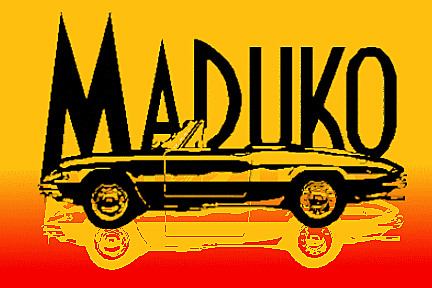 Maduko Motori
Italian Auto Parts & Accessories
---
Maduko Motori has offered high-quality replacement parts and accessories for Alfa Romeo, Fiat and Lancia automobiles since 1988. We offer original equipment parts and aftermarket items of superior quality. Our specialties are the Alfa 105/115 series, Fiat X1/9, 124 series and Lancia Scorpion.
No Voice Mail! No Catalogs! No Crap!
Just high quality replacement parts and accessories at competitive prices. Here are some of the special deals from our current flyer along with closeouts and sales just for our "wired" customers....
---
Got a question? E-mail us directly from this site at[email protected]. To place an order you can...
Call us at 800/462-3856
Fax us at 918/585-9333
E-mail us [email protected]
Write to us at: Maduko Motori 114 N. Boston Ave. Tulsa, Ok. 74103-2020
Maduko accepts Visa ,Mastercard and Discover; or prepay your order by check or money order. Personal checks will delay shipment of your order for ten business days. Minimum order amount is $20 of merchandise. Most orders are shipped by UPS or parcel post, minimum shipping charges are $5.00. Additional charges will apply for express, truck and foreign shipments. Here's the scoop if you would like to place an order by e-mail but don't care to transmit your credit card number to the world....
E-mail your needs and desires and we will hold your items for three working days so you can call or fax us your charge card info. After three days it goes back on the shelf and any scumbag can walk right in and buy it. If you prefer to send a check or money order, just let us know so we can watch the mailbox. Call 800/462-3856 to place an order or call 918/585-9333 for technical questions or fax.
All returns are subject to a 15% restocking fee and must be accompanied with a copy of the original invoice. Any claims for damge or shortages must be made within 10 days of arrival. No returns will be accepted for closeout or special order items, electrical or fuel injection parts, books, tools, models or installed parts. Any items returned must be in the original packaging and in resaleable condition. Call for Return Merchandise Authorization number before sending back any mechandise. Unauthorized returns are never accepted!
---
Another creation of the Webheads at Maduko Informazione ©1996
Can we build one for you? We specialize in online cataloging, E.zines, technical documentation and intranet systems. For more information on our Web Authoring services contact

[email protected]