Archived Pages from 20th Century!!
Sign Our Guestbook
View Our Guestbook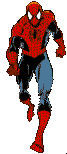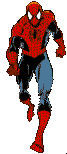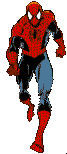 Welcome all Spider-Fans!
You are Webhead #

to swing through our web!
(Dedicated to Bert Edens, the omnipotent listserver administrator, and all around great guy...)
---
"Oh, what tangled webs we weave..."

Picture Index

Would You Like To Take A Survey?

Would You Like To Chat?

Try your hand at our Spider-Trivia

Our other tangled webs

The Funnies

November Reviews of Spider-Man

A tribute to our hero... Spider-Man Fan-Fiction by real live Spider-fans!


Our members' profiles

The Birthdays! We've decided Spidey's is Nov. 4...


See some panels from old Spidey tales

Credit where credit is due

Short profiles of some of Spidey's foes

Spider-Man Listserver Message Board!

Turning Points of Spider-man!
---
This is the new page of the Spider-Man Listserver, an e-mail based discussion group dedicated to the Webhead. We, the listserver members, have come together with our html knowledge and love of comics to build a monument to the greatest comic character of all time!
---
Wanna join us? If you do, send an e-mail with "subscribe spider-man" (with no quotes)and your e-mail address in <> in the body, to [email protected]. This is an active list, so if you can't handle all the e-mail, try the digest version. Just put "spider-man-digest" in the place of "spider-man." Either way, a comfirmation will be sent by majordomo with a set of simple netiquette rules;follow them, and everything will be fine... You should start getting e-mail from our list rather soon, but you might want to sit back and get into the swing of things before you become a really active member. When you reply, reply to [email protected]... If you're interested, welcome to the web-family, and may I give the first of a 21-web salute!
THWIPP!
---
This Comic Book Webring site is owned by Spidey Listserver People.
[ Skip Prev | Prev | Next | Skip Next | Random | Next 5 | List Sites ]
Member of the Comic Sites Alliance
Now a link to the best linking page!!
So Cool we had to put it on our homepage!
Disclaimer: Our listserver is not affiliated with Marvel Comics, Marvel, Entertainment, Inc., nor does it reflect the views of Marvel Comics. *Not an official Spider-Man page, but only the official page of our listserver.

---
This page hosted by
Get your own Free Home Page