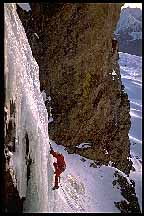 The Cold Mountain Page

ice climbing and mountaineering (mostly) in North America

A repository on ice-climbing, glacial and winter mountaineering, mostly in in North America, maintained by Tuan.
Ice climbing
The Ice FAQ
Ratings: includes a detailed description of the Canadian-French system.
Style: the touchy debate on free climbing ice.
Technique: strength, protection, misc.
Gear: discussion on tools, wrist-loops, etc....

Ice climbing gear
Tools: my personal recommendations.
Screw placement: some tests performed by BD on holding power of threads (Chris Harmston)

Images and Stories
The NA ice-climbing season 95-96: summary of this excellent winter, key accounts.

Personal trips
I started to climb ice in the Alps. See my collection of pictures of classic climbs and testpieces. In North America, I explored a few areas, among them New England (from which comes the Tales from the wet side: a report by Greg Hager on a 1994 trip), Utah, and Colorado (don't miss the pictures of The Fang).
So far, my favorite area are the Canadian Rockies. In March 1994, I went on my first trip there. We struggled against bad conditions but managed to climb some classics, until an avalanche hit us on Polar Circus ( short report, pictures, recit en francais
). I returned to the Rockies in February 1996. This second trip was eventually more successful, ending on Sea of Vapors. See some photos and read my account as well as Wayne Trzyna's and Bob Cordery Cotter's.
However, my most memorable experience in 1996 was climbing a new line in British Columbia, The Theft, 240m, V 6R, with Kevin Normoyle, another "rec.climbers". The report is just a summary, but there are some pictures and also a "bumbly" version of the events, Eric Hirst style.
Other interesting accounts
Omega: New England's rarely formed technical and emotional statement, by Mark Moran
Call of the Wild: FA of the first WI6 climb in New England, by Mark Moran
Octopussy: Jeff Lowe's degree 8 testpiece, by Wayne Trzyna and Bob Cordery-Cotter.
Surfing in Kansas: A beginner's look at Adirondacks ice, illustrated, by Pedro Espina.
Ice Climbing at Orient Bay: A report on the Ice Fest, by Everett Fee

Edwina's Snivelling, Weeping and Whimpering Weekend: a few photos from the Canadian Rockies.

ice climbing in Alaska: pictures and general resources by Joseph Lawendowski.

East Coast and Colorado: illustrated climbing trips by Rob Savoye.

Beta, Topos, area introductions
Ice climbing in California: beta on the few ice climbs of sunny California.

Amos Clifford and Steve Tucker's California Ice Project: a comprehensive guidebook (waterfall and gullies)

Waterfall Ice in the Canadian Rockies: extracts from the book by Joe Josephson with updates.
Ontario: a short introduction (Peter Spindloe)

Ice climbing in the Alps: Gimmi Ratto's guide to selected ice climbing locations in the French and Italian Alps.
Cascades de glace des Alpes Maritimes: le topo complet.

Ice climbing in Corea: a note about the main site (Jaekon Lee)
Ice climbing in Iceland: Ice-land ? Must be good for ice ! (Olli Thorsson)
Ben Nevis, Scotland: a short introduction (Struan Gray)
Condition updates
Telluride: Bridal Veil Open Dec.2: message from the Access Fund
This year I will not be maintaining condition updates. See the following links:
Rock and Ice reports: several sites in North America

Ski and climbing conditions in the Canadian Rockies and Columbia mountains: compilation by Rescue Dynamics

Washington and BC Ice Reports: compilation by Kevin Griffin

California: ClimbNET's Eastern and High Sierra reports, including Lee Vining.

California: ClimbNET's Tahoe reports.

Colorado and Wyoming report: compiled by Wayne Trzyna

Southern Colorado: reports of conditions, general introduction by Clay Patton

New England ice report compiled by Mark Dixon (aka IceNE)

North America Mountains
Mt Mac Kinley, Alaska
Upper West Rib solo: report/beta, specific comments on gear and on photography, photographs
Punks on the Other Side of Denali: report on East Buttress by George Bell.
Denali the Easy Way: report on West Buttress, title from the author, Mike Bradley !
Denali national park & preserve 1995 mountaineering summary: weather, success rates, accidents.

Xuelei's expedition to Denali: a detailed report on the West Buttress with interesting photos

Ric Otte's Mountaineering Page: many trips to Mc Kinley. See photos of traverse, W.Rib, and Cassin.

Lan Times mobile expedition: photos/reports of the traverse, updated live from the mountain.

A Family Outing to Denali: report on the West Buttress, by Peter Green.

DD's climbing journal: report on the West Buttress with AAI , by DD Bartley.

NOLS Denali Expedition: a course focussing on the Muldrow glacier route.

The Denali Home Page: provides links related to Denali NP.

Climbing Mt. McKinley: practical planning info and list of resources.

California Mountains
5 Seconds: a beginner's intense experience on Shasta, by Mike Sarmiento.

Mount Shasta: recreational resources, links on climbs of the mountain.

---
Get me back to
the Mountaineering Page !