Archived Pages from 20th Century!!
The Ariau Jungle Tower
A Hotel In The Tree Tops Of The Amazon
---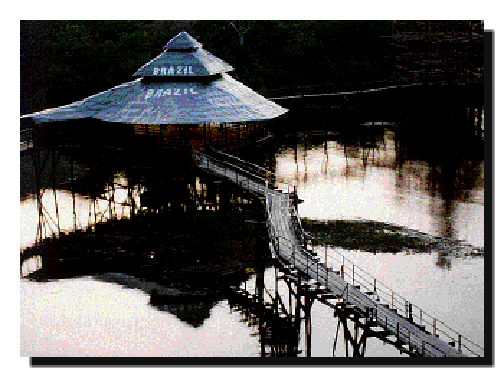 "Tarzan meets Swiss Family Robinson meets ecotourism at its most deluxe. A heliport and splendid presidential suite await the most deluxe guests..."
Conde Nast Traveler, March 1996
25 Extraordinary Places Worth That Extra Mile



The Ariau Jungle Tower Hotel is a complex of towers and suites connected by a web of catwalks built at the level of the rainforest canopy. There are over three miles of catwalks, and a number of tours, treks and night time canoe trips providing visitors an intimate communion with the flora, fauna; sights and sounds of the Amazon region.

The Ariau is located 35 miles from Manaus on the confluence of the Rio Negro and Ariau Creek at the foot of the Anavilhanas Archipelago, the largest fresh water archipelago in the world. The region is considered one of the most biologically diverse in the world. The Ariau Jungle Tower Hotel was featured in Conde Nast's "Gold List," January, 1995 Issue as "One Of The Best Places To Stay In The World." Additionally the Ariau's "Aviary Of Hope" has been awarded the prestigious international 1995 Emerald Globe Award for its ecological work.

---

Email For Reservations

Rooms & Rates

Visit The "Aviary Of Hope"

---
For A Printed Brochure, Additional Information & Reservations Please Contact:
Jill Siegel
Ariau Jungle Tower Hotel
United States Sales Office
85-45 151st Street
Jamaica, New York USA 11432
Telephone 718-523-0041
email:


[email protected]
---
---
---
---
Copyright © 1995, 1996 Vacation-Inc.Com. All Rights Reserved. For more information on listing please email Vacation-Inc.Com. These pages are best viewed using the web browsers Netscape 1.1 and 2.0b5, Mosaic 2.0.1, Microsoft Explorer and the current AOL Browser.