Archived Pages from 20th Century!!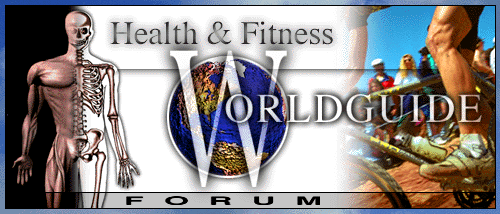 ---
Welcome to The Worldguide Health & Fitness Forum
---

Anatomy: A simple lesson in human anatomy.
---

Strength Training: Exercise recommendations for power and speed.
---

Cardiovascular Exercise: Up the trail to a healthy heart.
---

Eating Well: What to eat and when to eat it.
---

Sports Medicine: Suggestions to help you stay actively healthy.
---

Ziff-Davis Press: A direct connection to the publisher of our CD-ROM product Your Personal Fitness Trainer. Link to the ZD Press page to order the product and to browse their top-notch online offerings.
---

---
---

---

---
Questions or comments? Feel free to let us know what's on your mind.
---
�Worldguide Online 1995, all rights reserved.










Health & Fitness Health & Fitness Health & Fitness Health & Fitness Health & Fitness Health & Fitness Health & Fitness Health & Fitness Health & Fitness Health & Fitness Health & Fitness Health & Fitness Health & Fitness Health & Fitness Health & Fitness Health & Fitness Health & Fitness Health & Fitness Health & Fitness Health & Fitness Health & Fitness Health & Fitness Health & Fitness Nutrition Nutrition Nutrition Nutrition Nutrition Nutrition Nutrition Nutrition Nutrition Nutrition Nutrition Nutrition Nutrition Nutrition Nutrition Nutrition Anatomy Anatomy Anatomy Anatomy Anatomy Anatomy Anatomy Anatomy Anatomy Anatomy Anatomy Anatomy Anatomy Anatomy Anatomy Anatomy Anatomy Anatomy Exercise and Strength Training Exercise and Strength Training Exercise and Strength Training Exercise and Strength Training Exercise and Strength Training Exercise and Strength Training Exercise and Strength Training Exercise and Strength Training Exercise and Strength Training Exercise and Strength Training Exercise and Strength Training Exercise and Strength Training Exercise and Strength Training Exercise and Strength Training Exercise and Strength Training Exercise and Strength Training Exercise and Strength Training Exercise and Strength Training