FLASH Traffic
If you missed Fifth Colvmn recording artists, CHEMLAB, when they appeared live at the Troubadour on July 20th.....donít worry!! You can still hear them on LA LIVE anytime, day or nite!
And stay tuned for a new live goth/industrial show coming up this month featuring two bands you've read about here!

Check out the new interviews by the Virtual Night Angel and the kool artwork of Travis Baumann.

Something Horrible is Happening In Hollywood...
HELLHOUSE OF HOLLYWOOD
Specialists in the strange, the weird and the one-of-a-kind.
HalluciNet welcomes the Wednesday archives! Prose, poetry and musings of the dark souled cyberauthor of Usenet fame.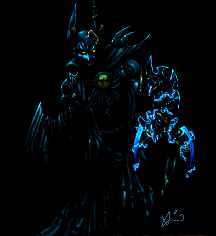 Feast your eyes on Insanities Pit where you can view art from Kino.... and soon we will be offering Kino and Eric Larson screen savers for purchase and downloading online.

Next time you are out at the beach, check out the popular reggae/ska band World Tribe.

HalluciNet welcomes the CyberDen...megs and megs of sound and discographies for the alternative music world. Check it out!
Also - in production - Quark Noir, a series by Jeff Mandel. This is just another one of those stories that mixes sex, violence and quantum theory. I know, I know, if you seen one quantum theory story you've seen 'em all - but hey! This one is interactive and non-linear! And you will even get to see rokketBoy and Fuligin appear in some of the episodes. Don't have a date yet, but it is going to be veeery kool.
On the border between Hell and Purgatory lies the sweetest little town.
Start Digging.
Start Talking.
NEW AND IMPROVED!
Necropolis: the webMUD. Coming soon to HalluciNet.

Check out No Doubt's official home page on HalluciNet. AND NOW....the No Doubt chatroom...