Archived Pages from 20th Century!!
The Helicopter Aviation Home Page
---
Welcome to the Helicopter Aviation Home Page. Everything you ever wanted to know about helicopters, and then some!

One word of warning. I've included a lot of pictures on these pages, so some pages take a while to download. Hopefully, you'll find the wait to be worth it. A color display is a real plus, as I've used color a lot in diagrams and pictures.

The document is split into several main sections:
What's New I realized that people need this section since I'm constantly adding to the information on this server.
Aerodynamics This section has lots of diagrams and descriptions of the major aerodynamic issues involving helicopters. It's quite technical...
Mechanical Components This section has pictures and descriptions of different components of helicopters such as instrument panels, flight controls, and rotor systems.
Aircraft Operating Handbooks contains a generic description of the contents of aircraft operating handbooks.
Maneuvers This section contains descriptions of most normal and emergency procedures which pilots are taught, including some photo sequences of some of the maneuvers.
Learning to fly helicopters This section discusses requirements to become a helicopter pilot, some suggestions on how to select a school and an instructor, and some general information on how much it will cost.
Helicopter Owning
Helicopter FAQ
History of helicopters This section was written by Dr. Guy Sadler of Tasmania Australia. It contains some historical notes on the development of the helicopter.
Info about All Star Helicopters This contains some info about the FBO (Fixed Based Operator) I instruct at. It has some pictures of day to day life at a typical small helicopter school, plus some air-to-air pictures taken around Boston..
You can find out more about the author, or his son Greg's pictures
---
Just a couple pictures to get you interested. There are many more pictures spread around this home page, especially you might want to check out the All Star info since I've put some pictures of everyday life in there. Anyway, here are two of my friends looking at a Robinson R22: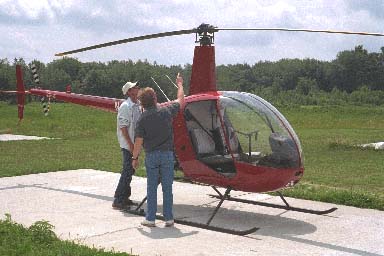 and here is the cockpit of a JetRanger I fly:
---
Paul Cantrell


[email protected]