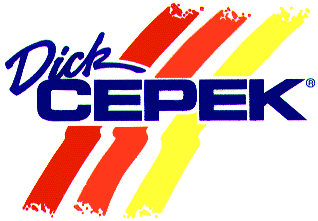 1-800-992-3735
(1-800-99-CEPEK)

INTERNET PRODUCT OF THE MONTH!!
EURO TECH DRIVING LIGHTS AT$89.95!
For driving or fog applications, this unique Dichroic reflector and bulb make up a single unit which allows the heat to be dissipated away from the bulb, extending bulb life. This light's small 3 1/2-inch diameter and 55-watt halogen bulb makes it the "Little Giant" of performance lighting. Special high-tech composites are used to create the ultimate in a rust-free, lightweight housing. The kit includes two lights, a pre-assembled wiring harness, and stainless-steel screws or high-strength adhesive pads to give you everything you need for easy installatiion.
As usual, our monthly Internet special price of only $89.95 makes them an offer you can't pass up! The unique purple ion lens is also available at an additional cost of $10.00 per kit. Make sure you mention this adwhen ordering.
STAY TUNED EACH MONTH
FOR MORE EXCITING DEALS!


---
Brent Riley, George Lathouris, and the Dick Cepek staff take a time-out at the Summer 4-Wheel Jamboree Nationals to check out the new Big Dummy 4 Ford monster truck. This Cepek-sponsored state-of-the-art machine runs on propane and has one turbocharger per cylinder (count 'em, eight). Owner/driver Frank Schettini steers the monster with handle bars.


---





Dick Cepek Inc. started over 35 years ago with one thought in mind: Provide specialty parts with high quality and provide superior service. This direction has taken Dick Cepek from the pioneer of the off-road industry to the industry leader today.
Dick Cepek Inc. manufactures and distributes more off-road parts, tires, and accessories worldwide than anyone. Our corporate warehouse is located in Carson, California. This facility boasts over 100,000 square feet of quality parts and is ready to ship daily. Dick Cepek's extensive distribution network includes two company-owned warehouses, 12 retail stores, a state-of-the-art mail-order business, and more than 2000 multi-level distributors across the U.S. and more than 50 countries worldwide. With this kind of extensive distribution, Dick Cepek Inc. can get you the parts you want, anywhere.
Dick Cepek was first in off-road tire development and currently has the most complete line of specialty off-road tires available today. The business then grew dramatically, and Dick brought in additional product lines to serve the off-road enthusiast. Fine manufacturers like Rancho, Warn, Smittybilt, Superlift, and dozens of others were added to Cepek's product selection, giving you the ability to obtain everything you need to equip your truck or Jeep for on- and off-road conditions. As the industry has changed over the last 35 years, Cepek has changed with it by adding complete lines of truck accessory items from such manufacturers as G.T. Styling, Dee Zee, Bestop, Steel Horse, Lund, and much more!
The ability and desire to develop unique, quality products that are Dick Cepek Baja Proven has grown over the years to include a full line of Performance Lighting Products, Gas Shocks and Steering Stabilizers, Polyurethane Components, and countless specialty accessories. In short, if you want something for your truck, Jeep, or sport/utility vehicle, Dick Cepek can get it for you!
As the dominant leader in the off-road industry for over 35 years, Dick Cepek can offer you the best in overall product selection and unequaled customer service for years to come.
---
E-Mail:

[email protected]



800-992-3735 (U.S. retail customers only)
(01) 310-527-5888 (outside U.S.)
(01) 310-527-5891 (fax)

HOME || CATALOG || RETAIL STORES || CONTESTS


Copyright © 1996 by Dick Cepek, Inc. All Rights Reserved.