Archived Pages from 20th Century!!
Green Fashion Spreads!
Interview with Iara Lee, Director of Film "Synthetic Pleasures"
Lettre de Pére Lachaise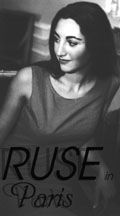 ---

( M o d e )

Lettre de Pére Lachaise Dreaming remembrance of Bleu Paris.
Clubbing on the 19th A lazy day at the links.
the Ocean's end Two enchanted girls on a psychological exploration.
retro elegance Studio layout featuring super elegant suits and leather corsets.
blur scapes A photographic expedition of haute couture and surreal landscapes.



( A r t )

Future Archetypes UK artist Dianne Harris' cybervision.
Sylvie's Journal An encounter with a schizophrenic deep in the lowest Haight.



( Architecture & Design )

Virtual Mountains Mission Cliffs provides climbers with a "really virtual" experience.
steel Graphic A Graphic Design conference room with aesthetic elements.
Little Italy A natural setting for an office for Graphic Design and Printmaking.
SF Design Modern designs in furniture.


( Photography & Images )

exposure flash Portfolios of aesthete photographers.
the Metro A chilling series by starving digital artist MECM.
Streetsmoke A photo-journal of urban style.


( Film & Video Shocks )

Synthetic Pleasures Interview with Iara Lee, director of Synthetic Pleasures.
cyber Video shocks Shocked clips of Ani Phyo's (D7) video work.


( Speed Links )

Global Hub Index for Fashion and Model, Movie, Art, Photography, and Sound sites.
Mutual Links Mutual Link Exchange. Spread the word about your site!
Speed.Queen Webfly critique of an aesthetically pleasing site, weekly.
Hot Links Hub Index of other web sites' link pages.


( Details )

information Information about Ruse and advertising..
credits the Ruse posse.
feedback Tell us what you think. You know,.. what's up?

Copyright (c) 1996 Ruse Magazine. All Rights Reserved.