Archived Pages from 20th Century!!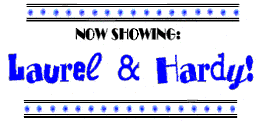 Welcome to Steve Ramsey's Laurel & Hardy Archive
...Pack up your troubles!

Laurel & Hardy Meet Lucy?
This is a fascinating 375kb audio clip of L&H and Lucille Ball from a Mail Call program in 1943. Chris Segin (who so kindly sent me this clip) put it best when he said it sounds like it was written for Abbott & Costello! Rare indeed.
You are Blockhead #

to visit this site since 9/23/95!
---
This web site was created in July, 1995. (I think!)