Archived Pages from 20th Century!!

That's no small stuff for a small country.
Clearly, many people have found a way of realizing their dream for a house in Greece, and more would like to, if they could only find more information about it.
Well, here is the first independently published (bilingual) book
that tells you how to (and what to avoid).

---
---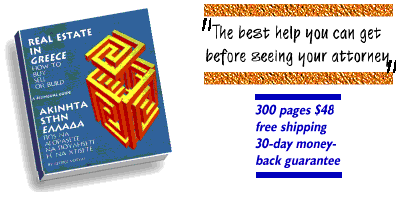 IF YOU ARE A PROSPECTIVE BUYER,
see the following STEP-BY-STEP chart.
For a detailed view of pertinent questions, click on the particular STEP you want.
The numbers next to each question are actual book page numbers.
IF YOU ARE A PROSPECTIVE SELLER,
SEE THE CONTENT HIGHLIGHTS.

---
STEP-BY-STEP CHART
YOUR QUICK GUIDE FOR BUYING PROPERTY IN GREECE



STEP ONE
Decide why you want to buy property there, and how much you want to spend.


STEP TWO
Investigate pros & cons in different areas.


STEP THREE
Look for specific properties.


STEP FOUR
Check carefully the following for each property.


STEP FIVE
Analyze the financial aspects of each property.


STEP SIX
Prepare for settlement .


STEP SEVEN
Do this after the final contract is signed.




ORDERING INFORMATION FOR THE BOOK
---

CONTENT HIGHLIGHTS
Each page of the ten chapters in this book (English on the left, Greek on the right) is full of tips, insights and background information on buying, selling or building real estate in Greece, such as:

MARKET PRICES vs APPRAISALS,
SELLING PROPERTY AND EXPORTING YOUR MONEY

LOCAL FINANCING,

CLOSING COSTS,

TITLE VALIDITY,

PRIVILEGES OF FOREIGN BUYERS VS. LOCAL RESIDENTS,

RENTALS,

UNDOCUMENTED HOUSING ("AFTHERETA"),

FOREIGN EXCHANGE,

TAXES,

BUILDING PERMITS,

CONSTRUCTION PRACTICES AND MATERIALS,

TIME REQUIREMENTS,

WATER AND POWER SUPPLY,

SOLAR ENERGY,

ENVIRONMENAL ISSUES,

GOVERNMENT INFORMATION SOURCES,

PROFESSIONAL INFORMATION SOURCES,

CLOSING COSTS COMPUTATION DATA,

SAMPLES OF TRANSLATED LEGAL DOCUMENTS.

TO BUY THIS BOOK
Print out this ORDER FORM & INVOICE , fill it in and mail it with your check to:
Typoma Publishing Inc. POBox 7379,
Alexandria, VA 22307
For information on trade or association discounts for bulk orders,
or for information on other related services, please e-mail
or contact us
by fax at 703-768-8044,

---
TELL US WHAT YOU THINK!
We would like very much to hear what you think of this book, or any questions you may have. Use the e-mail address above to send us a message.

---
For additional sources of information on Greece you may want to connect to the Hellenic Resources Network, the Internet part of the Hellenic Resources Institute, a serious, competent group of professionals and academics. The HRI site mirrors major international and Greek sources on Greece and the Eastern Mediterranean, providing a large variety of information from frequent weather forecasts and currency parities, to economic and political news and commentary.
Copyright 1995, 1996

PgSrL210A408 X