Archived Pages from 20th Century!!
Bartels' Harley-Davidson (800) 227-3534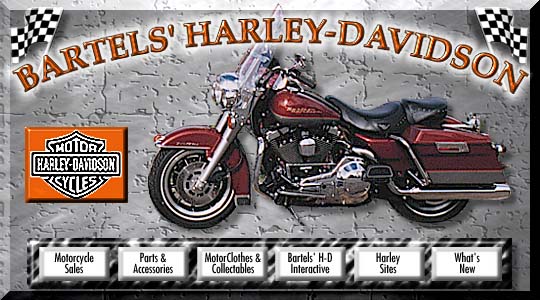 Welcome to Bartels' Harley-Davidson's Re-Vamped World Wide Web Site. Click on the Bar & Shield logo above to discover a new area of our site every week (or two). Speak your peace or post a question on one of our two ( Love , Rides) BBS's. Or search for your pleasure on our searchable database:
Or search some of the biggest Search Engines on the Web for whatever you want.
Or check out:


Bartels' HD Interactive (Our fun section)
New and Used Bike Sales | MotorClothes | Parts and Accessories
Bartels Performance Products | Custom of the Month | Hot Hawg Links | Babes
Motorcycle Online | What's Up? | Biker Love BBS


(800) 227-3534 | Copyright