Archived Pages from 20th Century!!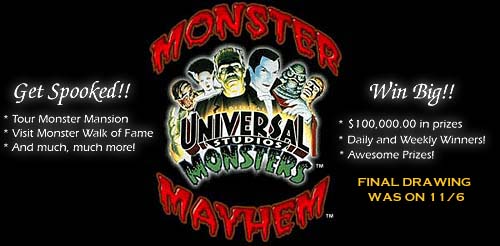 For over 60 years, the Universal Studios Monsters have been scaring the living daylights out of people from all over the world.
Now, Frankenstein, The Bride of Frankenstein, Dracula, The Mummy, Wolfman and even the Creature From the Black Lagoon are pleased to welcome you to their all-new home on the Internet.
Prepare yourself for...
UNIVERSAL MONSTER MAYHEM
For a real scream, call on the Universal Studios Monsters in their on-line abode, the spooktacular Monster Mansion. Boris Karloff will entertain you with frightfully chilling monster stories. Come face to face with the greatest monsters of all time as you stroll down the Universal Studios Monster Walk of Fame . If you survive all that, you can send your friends an Eerie E-Mail Postcard.
Stroll through the gallery and discover the legends and stories behind each of the six Universal Studios Monsters.

Don't miss this incredible line-up of the greatest horror movies of all time!

Universal Studios and the U.S. Postal Service unveil official postage stamps bearing Universal Classic Movie Monsters featuring: Bela Lugosi as Dracula, Lon Chaney as The Phantom of the Opera, Lon Chaney Jr. as The Wolf Man, and Boris Karloff as The Mummy and Frankenstein's Monster.


The faint of heart are always welcome to return to Universal Studios



Produced in conjunction with Z.M. Interactive.
TM & © 1996 Universal City Studios, Inc. All rights reserved