Archived Pages from 20th Century!!
Welcome to

What's Here?
Model kit reviews, tips, techniques, tools, reference photos of the real things...you'll find it all here! In addition, you'll be able to browse the most extensive collection of links to other model-related Web sites. And for fun, a photo gallery of models on display.
Thanks for visiting my Web site. If you'd like to add to these pages, I don't discriminate. Aircraft, tanks, cars, spacecraft, figures..."The Visible Horse"...whatever. See my email address at the end of this page.
And don't forget to visit the newsgroup rec.models.scale for more tips and information on modeling!!
Enjoy!
Troy Downen
---
What's New?
The B-2 Spirit stealth bomber was in Wichita, Kansas on Saturday, September 14, 1996. It alternated performing touch-and-goes with a B-1 Lancer bomber for about 30 minutes at McConnell AFB. I managed to snap off a few shots as it flew over the base.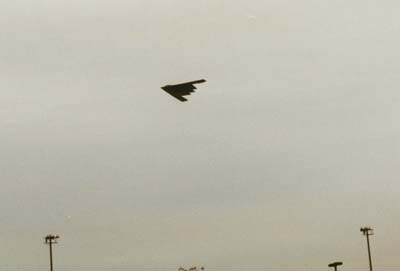 That is one odd-looking beast!
OZ-CON '96
Photos from the model contest!
(Death Takes a Ride, Ral Partha)
---
The Model Stuff -- Check These Out!
| Modeler's Home Page | Model Reviews | Tips & Tools | Photo Gallery | Reference Pictures | Model Web Sites | Other Cool Pages |
---
About Troy Downen

The X1-E stands outside the main administration building at the NASA Dryden Flight Research Center. I worked here during graduate school and got some detailed pictures of the SR-71, D-21 Drone, YF-23, X-29, F-104, B-52 and more! Look for them to be posted in the "Reference Pictures" section soon.
I now work as an aerodynamics engineer for Raytheon Aircraft, better known as Beech Aircraft (depends on whom you ask). The Premier I is Raytheon's new light business jet, and it's also the airplane I'm currently working on.
The Joint Primary Aircraft Training System (JPATS) contract was won by Raytheon -- this photo shows the Air Force and Navy trainer for the 21st Century!!
A few public facts about the revolutionary Premier I aircraft.
---
The Visitors
The little aliens inside this computer say you are visitor number

to this page.




The Web Counter
And a big thanks to my wonderful girlfriend, for all her help!!
---
The Big Wrap Up!
I would like your comments! Send email to:
Troy Downen ([email protected])

Page by Downen Productions, a division of Downen Enterprises
Last revision: Sunday, October 06, 1996