Archived Pages from 20th Century!!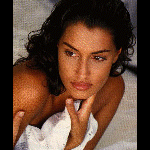 Welcome to my tribute to Yasmeen Ghauri.
If performance is slow, try one of the other servers.
There are 22 pages of Yasmeen Ghauri pictures, each of which has 10 thumbnails. Select the thumbnail image to download the full-size image. A text file listing is also available.
Special thanks to Paul Miller for providing many of these images, including a large number of pics not listed in the credits list.
---
Yasmeen Ghauri Image List
Yasmeen Ghauri Credits List
Yasmeen Ghauri Image Galleries
Related links:
---
[Return to The Realms of Magic: Supermodels and Celebrities]
---
Last modified: Saturday, December 28, 1996.
Questions and comments? E-mail:
Bradley J. Marker,

[email protected]