Archived Pages from 20th Century!!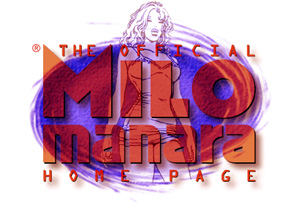 You can also try our US mirror at

Welcome to the Official Milo Manara Home Page. You will find here everything about the great Italian comic-strip writer, with images, exclusive news, projects and retrospectives.

Milo Manara participates actively in the realization of these pages which are not only a celebration of his skill, but they are also and most of all a way that allows a direct and real dialogue between Milo and his readers.

These pages are to be used with Netscape 2.0 or higher. If you don't have it get it immediately at this address.


---
Surveys:
---

Digital Word by Milo Manara
In this page, edited by the author himself, Milo Manara talks about cartoons, art, but also about politics and morals. No limits, no censorship.
On-Line Story
Every month you will find a complete cartoon that is chosen among the works of Milo Manara that have already been edited; the cartoon is preceded by a short introduction written with the help of the author. You can read it now, on-line!
In The Works
What is Manara doing at the moment? What are his projects? Exclusive indiscretions, programs, images.
Creatures
A closer look on the creatures of Milo Manara. From Miele to Giuseppe Bergman, from Claudia Cristiani to Father Black: we will try to understand, with the author's help, who they represent, where they come from, who has been their inspiration.
Manara Exhibition
A periodically updated virtual exhibition of Milo Manara's works apart from the cartoons. Illustrations, covers, plates and posters.
Milo's Mail Box
Write to Milo Manara, ask questions, criticize him, make love proposals (only women)...He will respond personally via e-mail!
Sign-Up Board
Sign our register and send us your comments.
The Drawing Workshop
Send us your works: the best of them will be shown in this space.
---
Produced and updated with the direct collaboration of Milo Manara,
by Medi@Bros Verona - Italia Phone +39 (45) 8780437 Fax +39 (45) 994789
html Marco Murari graphics Marco Belotti
Please e-mail us your personal suggestions.
©Milo Manara All Rights Reserved
---