Archived Pages from 20th Century!!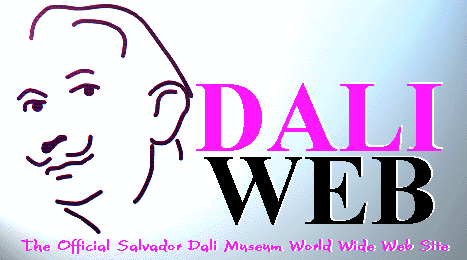 This Is The REAL ONE--The Official
Salvador Dali Museum Web Site!
Please!!!! DO NOT Click On The Flies Or The Melting Clocks
(We Warned You).


Welcome To DaliWeb!

Presented by Intermedia Communications and Ken Donofrio.
Take The Quiz! Take The Quiz! It's the Dali Quiz, and now along with all the other wild questions, YOU can create one of your own!!! (It's VERY cool) Nearly 5,000 people have tested their Dali knowledge and have the chance to win free Dali posters! Our Dali Mousepads are so popular, we'll be adding additional Dali products online! You asked for it...you got it! Finally, you'll find information on 'From Gaudi To Tapies: Catalan Masters Of The 20th Century," the current exhibit at the Salvador Dali Museum in St. Petersburg, USA.

You can still discover our HISTORY, see some of Dali's greatest WORKS, or learn how our FRIENDS help us fuel our continued growth. Whether you're new here, or an old friend, we hope you enjoy your ride through DaliWeb!


"From Gaudi To Tapies:
Catalan Masters of
The 20th Century"
July 27 - September 22, 1996

---
Our Email Address Is: [email protected]
©1996 Salvador Dali Museum All Rights Reserved
This Site Sponsored By Intermedia Communications & Ken Donofrio
Site Design & Marketing ©1996 Ken Donofrio.
Server Space Provided By: Intermedia Communications