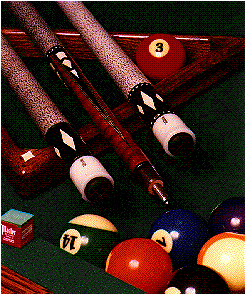 AMERICAN CUEIST MAGAZINE
The Pool Players Magazine
It's

in Texas - Time to Play Pool!
The American Cueist is a monthy magazine published in Dallas, Texas for pool and snooker players throughout the United States. Every issue features a custom cuemaker with full color pictures on the cover. This cover shot is of Lambros Cues of Baltimore, Maryland from the August, 1995 issue.
---
Earl Strickland Wins One MILLION! and CJ Wiley Wins First PCA Stop
Look for articles by: Dick Jacobs (author of Master Stroke 1), John Guffey (One-Pocket Expert), Sandra Hebert (The Mind Zone), Jim Harp (How to Open Your Own Pool Room), Susan Dasher (WPBA, Hunter Tour Director and pool Attorney), CJ Wiley (Resident Pro), John McChesney (McDermott Tour Director), Jim West (Book and Video Reviews), APA and BCA league reports.
---
Subscriptions are only $19 per year for 12 information packed issues delivered right to your door.
---
Call (214) 388-3632 to subscribe, or write American Cueist, 8020 Carr St., Dallas, TX 75227,

For a FREE copy to review, click below and E-mail your name, address and zip:
---
WANT TO TALK? Let's PowWow - click here!
You must be running PowWow Software!
---
---
You are visitor #

since April 4, 1996.
---
Copyright ©1996 American Cueist Magazine. ALL RIGHTS RESERVED
Do not use without the written consent of the author and the American Cueist Magazine