Do you really need to know if you have what it takes to be a Ghostbuster?
Are you troubled by strange noises in the middle of the night?
Do you expirience feelings of dread in your basement or attic?
Have you or any member of your family ever seen a spook, spector, or ghost?
If the answers to any of these questions is yes, become one of the professionals.
Ghostbusters
We're here to help you with all your supernatural or paranormal needs.
---
GB Sound Stuff!
This page holds the few sounds that I have of my own
and will soon include the Little Known Facts about the movie. Many of you are sending me a lot of information about "did you know" (like little known facts) and they are interesting enough to include on the web. Stay tuned. Once again, if you have any input, email me at the bottom. It'd really help me out.
---
Yes, it is back and under NEW management! Chris Gates has taken over and wants to try his hand at Ghostmaster! The Ghostbusters Homepage is proud to ONCE AGAIN sponsor The Ghostbusters Play By Email Role Playing Game.
For more complete description and rules, check the page out!

Here it is! THE indispensable defense science of the next decade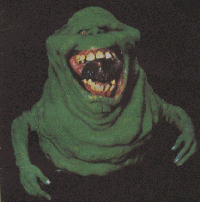 - trivia page. You may have seen other GB trivia, but none are like this. There is increasingly difficult trivia, and it is updated all the time! If YOU have any trivia, there is a place to submit it. This interactive page is a great new highlight.
Last Updated: November 1, 1996
---
GB Tidbits!
This page has everything you are looking for. I promise. So, you've heard a rumor from a friend at work that GB3 is in production. Well, we have news for you. You say you wanna know where the real firehouse is? Well...just take a gander at this page. Also, a lot of information on the "Extreme GB" toys and the "Super GB" cartoon. If you seek something, the GB Requests area will probably help you out.

Last Updated: December 2 1996
---
Coming to Save the World!
Collectibles from your favorite movie!
Norm has been buying and collecting merchandise from all over about Ghostbusters for many many years. The collection has been labeled by some "the Greatest collection of GB merchandise ever" (quote from Bill Emkow) Now, for the first time ever, Norm hasdecided to find new homes for his extensive collection. Everything you ever wanted from the movie, and cartoon, AND second movie is here!

Last Updated: December 2, 1996