Archived Pages from 20th Century!!
Welcome to the 1996 Aviation Catalog
---
Solid Philipine Mahogany aircraft models, hand carved and painded by skilled artists. They are presented on handsome mahogany bases and are the finest available today. We carry hundreds of different models from all aviation eras. If you are looking for a model that is not displayed here, just ask for it...we probably carry it.
SPAD XIII
Scale: 1/20 W/S: 15 3/4" L: 12 1/4"
ESAF021W. . .$164.95
FOKKER DR.1
Scale: 1/24 W/S: 12" L: 9 3/4".
F0224F1W. . .$119.95
FOKKER DR.1 "TRIPLANE"
Scale: 1/20 W/S: 14 1/4" L: 11 1/2". . . Note: Larger Scale
ESFN014W GERMANY-WW1. . .$154.95
SOPWITH F.1 CAMEL-RAF
Scale: 1/20 W/S: 17" L: 11 1/4"
ESFN017W Britain WWI. . .$144.95
ALBATROSS D-V "GORING"
Scale: 1/20 W/S: 17 3/4" L: 14 1/2"
ESFN002W Germany-WWI. . .$154.95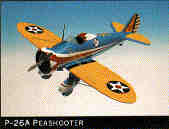 P-26A PEASHOOTER
Scale: 1/23 W/S: 14" L: 12"
A1824F2W. . .$109.95
DeHavilland TIGERMOTH RAF
Scale: 1/20 W/S: 17 3/4" L: 14 5/8"
ESFN015W Britain-WWII. . .$129.95
BOEING P-12
Scale: 1/20 W/S: 18 1/8" L: 12 1/4"
ESAF001W. . .$169.95
---
Von Kronja Catalogue Home Page
Page #2 of Aviation Catalogue

Virtual Air Museum and Air Classics Magazine