Ellison Webderland is the official Harlan Ellison homepage.
Ellison Webderland was last updated 08/16/96.
Ellison Webderland is your best friend.



New and Upcoming Book Releases
The Words of Harlan Ellison

[ News ] : [ Pics ] : [ Links ] : [ Bio ] : [ Resources ] : [ Store ] : [ Wanted ] : [ Comments ] : [ Rant ]


[ What's New ] : [ What's Cool ] : [ What the Hell is that? ] : [ Why Does Harlan Have a Web Page? ] : [ The alt.fan.harlan-ellison FAQ ]

Screw the Human Genome Project - this is what the Internet was created for!
---
Harlan Welcomes You to His Home on the Net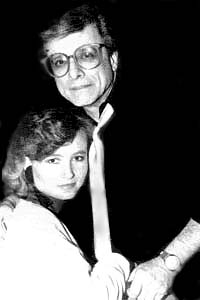 Harlan and Susan Ellison, taken at the 41st Writers Guild of America banquet.

I originally had a closeup of one of my own photos here, but was told by someone whose judgement I trust that it made Harlan look like he was eighty and had Alzheimer's. Since I am apparently no Ansel Adams, and since I come to praise Ellison and not to Reaganize him, I decided to use a picture of him from some other source. I first put up this picture from the back cover of The Harlan Ellison Hornbook, but my team of high-priced lawyers finally talked me into using the picture I'm using now, scanned with permission from the Harlan Ellison Recording Collection's newletter, The Rabbit Hole, Volume 3, Number 4.
Photo: Anne Fishbein

Tribute to My Vanity
Check out What's New in Webderland
41591 people have visited this page since 08/29/95. Click on the reload button a few dozen times and feed my ego, or look up the Webderland Stats with the Internet Audit Bureau (be warned, this service has been flakier than Crispin Glover lately).
A message from the curator:
Hi. If you're looking for 5-megabyte push-pull animations or wicked-ass backgrounds or other gee-whizzery, then you're SOL. Webderland don't got no imagemaps or real-time pictures of my book collection or automatic recordings of the blood sugar levels of the last 50 visitors. All it's got is me. I do have permission from Harlan to run this page, but what I need now is input from you as to what's missing, what you like and dislike, and what you would like to know.
This site is optimized for viewing under the latest versions of the Netscape Navigator. In other words, if you're not using Netscape, the pages probably look even more funky than I intended...
Last Update: 08/16/96: Ellison's Intro to Edgeworks 2, Peter David's FOE articles, new pages for Ellison releases and Ellison's words, Friends of Ellison info
Finally, a vanities section just wouldn't be complete without an Awards Page for myself and Harlan.
That's all I got right now! But stay tuned!
Type at you later!

(Cigarette surgically removed from Ellison's mouth by Photoshop upon request, as this photo is from 1962 and the author quit cigarette smoking over thirty years ago and pipe smoking in 1991. But just in case there are any tobacco lobbyists perusing this page: for the right price, I could very quickly put anything from a Virginia Slims to a whole pack of unfiltered Lucky Strikes into that highly marketable mouth. - Ed.)
[ News ] : [ Pics ] : [ Links ] : [ Bio ] : [ Resources ] : [ Store ] : [ Wanted ] : [ Comments ] : [ Rant ] :


Original artwork by Curtis Fritzsche

Return to the Ellison Webderland entry point



Maintained by Rick Wyatt -

[email protected]