Archived Pages from 20th Century!!
"FEMININITY AND MUSCLES DEFINED"
WELCOME to the "official" home page of National competitive bodybuilder, Ann-Marie Crooks!


For price and other info, please contact:


Heidi Paviour
c/o Shakespear Records
914 Ashford Parkway
Dunwoody, GA. 30338
(770) 913-0620

Check out Gene X's Page for pictures from the 1996 NPC Nationals.
I placed a very controversial 3rd in the women's heavyweight class. I weighed in at 186 pounds.
---
Outtakes and pics from the ongoing filming of my new video can be seen at Bob Leak's Bodybuilding/Fitness Page
Talk to me in real time on Tuesday nights between 9 and 10 pm EST.
LIVE on the internet using Virtual Places Software. Chat sessions are on Tuesdays nights at 9:30 pm EST. My name on VP is "the body". See you here!
---
PERSONAL STATS
Birthdate - September 12th
Height - 5'10"
Offseason weight - 215 to 225 pounds
Contest weight - 185 to 190 pounds
---
More pictures of me can be found on sites maintained by other female bodybuilding fans.. Check out:
A Hard Worker and CyberAmazon
---
TO CONTACT ME WRITE TO:
[email protected]
GOLD COAST GYM
1611 So. S.R. 7
North Lauderdale, Fl. 33068
(954) 974-9786
---
CURRENT AFFAIRS FOR 1996

I am working on the finishing of my video. I also am planning to start a training camp and seminars for people interested in training with me, and learning more about bodybuilding. Please email me for details.

You can also see me in the artist ROMEO's video, "Bump 'n Grind" on sale NOW. See info at top of page!!
---
CONTESTS/TITLES
1992 Ms. Sunshine State
1993 Ms. Florida
1993 NPC Nationals - 4th place (heavyweights)
1993 NPC IFBB North Americans - 2nd place (heavyweights)
1994 NPC Nationals - 2nd place (heavyweights)
1996 NPC Nationals - 3rd place (heavyweights)
---
TRAINING AND SUPPLEMENTATION
My training schedule varies between my offseason and precontest season. Basically, I train 2 days on and 1 day off during contest preparation time. In my offseason, I usually train 5 days on with the weekends off.
HOBBIES/INTERESTS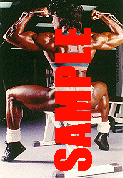 Favorite movie - "Its a mad, mad, mad, mad, world"

Favorite pastime - riding my motorcycle (Kawasaki ZX-9)

Pets - skunk, 2 snakes, and a Chow-Chow (dog)

Favorite TV shows - Nightstand, Martin, and Seinfeld

Favorite diet food - sushi

Favorite colors - yellow and purple

Favorite Musician - The artist formerly known as Prince

Favorite scent - Diamond & Rubies by Elizabeth Taylor

Currently Reading - "Compelling Evidence" by Steve Martini

Favorite candy bar - Symphony

---

I would like to thank the following people without whom I would not have competed this year! If you live in the Ft. lauderdale area, please patronize their business; or just drop them a line to let them know how much you appreciate their support of the athletes in the sport.

Speed & Truck World (Mary) 1060 W. Sunrise Blvd. Ft.lauderdale, Fl. 33311 (954) 760-9922

Unique Physique (Cindi James) 513 E. Sample Rd. Pompono Beach,Fl. 33065 (954) 786-9977 [email protected]

Bob Leak, William Cartwright, and Michael Lodge.

---

MY FAVORITE LINKS AND OTHER BODYBUILDING/FITNESS SITES




Go to the Colosseum GeoPage
Go to the Michael Scott Agency Models
Go toA Different BB Page
Go toChrista Bauch
Go to theScott Riley's Home Page
Go to theCarol Apperson's Homepage
Go to Faith Sloan's Home Page
Go to Bob Leak's Home Page
Go to theFitness Log
Go to theBlack Mirages
Go to the Bob fisher's Home Page
Go toA Different BB Page
Go to theCyberlron
Go toBody Mechanics
Go to Laura Vukov's Page
Go to the Underground Sports

THE BEST SEARCH ENGINES ON THE WEB!!

Go to Four11
USe Four11 to find email addresses.

Go to Switchboard
Use Switchboard to find the name and address of someone online

Go to Altavista
The most accurate search engine on the web!!

***This page was constructed and is maintained by Ann-Marie. Last update : 11/26/96