Archived Pages from 20th Century!!

The coolest new toys/games since the invention of kites, frisbees, or boomerangs. Great family fun!


Welcome to the . . .
Kite and Frisbee Lover's New Toy
Home Page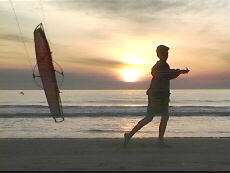 It's not a kite, but soars in the wind. It's not a frisbee, but it sails back and forth between players. It's not a boomerang, but it can fly in big arcs and always returns! It's not "unidentified", but truly it is a UFO (unusual flying object). Check out this intriguing new toy, and then try one of our contests - they're fun to enter and you may win a free WindBlade!



---

So What's this Crazy Toy About Anyway?

The WindBlade Photo Album

Testimonials from WindBlade, Kite & Frisbee Addicts

Current WindBlade World Records

WindBlade Specifications (for the techies)

Enter our Cool Contests (win a free WindBlade!)

Preferred Exits (Please come back often!)

Questions or Comments? Write us at:

[email protected]





Web Counter
Last modified on 07/17/96 by Ryan Nichols
WindBlade is a registered trademark of Tidepool Technologies, All Rights Reserved. U.S. Patent #5259804, Other Pat. Pending.
Copywrite (C) 1996 Tidepool Technologies, All Rights Reserved
---
contests and free prizes. Toys kids kites frisbees boomerangs UFO toys kids kites frisbees UFO contests and free prizes. Shopping malls toy stores beach fun outdoors recreation Christmas contests and free prizes. Toys kids kites frisbees boomerangs UFO toys kids kites frisbees UFO contests and free prizes. Shopping malls toy stores beach fun outdoors recreation Christmas contests and free prizes. Toys kids kites frisbees boomerangs UFO toys kids kites frisbees UFO contests and free prizes. Shopping malls toy stores beach fun outdoors recreation Christmas contests and free prizes. Toys kids kites frisbees boomerangs UFO toys kids kites frisbees UFO contests and free prizes. Shopping malls toy stores beach fun outdoors recreation Christmas contests and free prizes. Toys kids kites frisbees boomerangs UFO toys kids kites frisbees UFO contests and free prizes. Shopping malls toy stores beach fun outdoors recreation Christmas contests and free prizes. Toys kids kites frisbees boomerangs UFO toys kids kites frisbees UFO contests and free prizes. Shopping malls toy stores beach fun outdoors recreation Christmas
contests and free prizes. Toys kids kites frisbees boomerangs UFO toys kids kites frisbees UFO contests and free prizes. Shopping malls toy stores beach fun outdoors recreation Christmas contests and free prizes. Toys kids kites frisbees boomerangs UFO toys kids kites frisbees UFO contests and free prizes. Shopping malls toy stores beach fun outdoors recreation Christmas contests and free prizes. Toys kids kites frisbees boomerangs UFO toys kids kites frisbees UFO contests and free prizes. Shopping malls toy stores beach fun outdoors recreation Christmas contests and free prizes. Toys kids kites frisbees boomerangs UFO toys kids kites frisbees UFO contests and free prizes. Shopping malls toy stores beach fun outdoors recreation Christmas contests and free prizes. Toys kids kites frisbees boomerangs UFO toys kids kites frisbees UFO contests and free prizes. Shopping malls toy stores beach fun outdoors recreation Christmas contests and free prizes. Toys kids kites frisbees boomerangs UFO toys kids kites frisbees UFO contests and free prizes. Shopping malls toy stores beach fun outdoors recreation Christmas
contests and free prizes. Toys kids kites frisbees boomerangs UFO toys kids kites frisbees UFO contests and free prizes. Shopping malls toy stores beach fun outdoors recreation Christmas contests and free prizes. Toys kids kites frisbees boomerangs UFO toys kids kites frisbees UFO contests and free prizes. Shopping malls toy stores beach fun outdoors recreation Christmas contests and free prizes. Toys kids kites frisbees boomerangs UFO toys kids kites frisbees UFO contests and free prizes. Shopping malls toy stores beach fun outdoors recreation Christmas contests and free prizes. Toys kids kites frisbees boomerangs UFO toys kids kites frisbees UFO contests and free prizes. Shopping malls toy stores beach fun outdoors recreation Christmas contests and free prizes. Toys kids kites frisbees boomerangs UFO toys kids kites frisbees UFO contests and free prizes. Shopping malls toy stores beach fun outdoors recreation Christmas contests and free prizes. Toys kids kites frisbees boomerangs UFO toys kids kites frisbees UFO contests and free prizes. Shopping malls toy stores beach fun outdoors recreation Christmas
contests and free prizes. Toys kids kites frisbees boomerangs UFO toys kids kites frisbees UFO contests and free prizes. Shopping malls toy stores beach fun outdoors recreation Christmas contests and free prizes. Toys kids kites frisbees boomerangs UFO toys kids kites frisbees UFO contests and free prizes. Shopping malls toy stores beach fun outdoors recreation Christmas contests and free prizes. Toys kids kites frisbees boomerangs UFO toys kids kites frisbees UFO contests and free prizes. Shopping malls toy stores beach fun outdoors recreation Christmas contests and free prizes. Toys kids kites frisbees boomerangs UFO toys kids kites frisbees UFO contests and free prizes. Shopping malls toy stores beach fun outdoors recreation Christmas contests and free prizes. Toys kids kites frisbees boomerangs UFO toys kids kites frisbees UFO contests and free prizes. Shopping malls toy stores beach fun outdoors recreation Christmas contests and free prizes. Toys kids kites frisbees boomerangs UFO toys kids kites frisbees UFO contests and free prizes. Shopping malls toy stores beach fun outdoors recreation Christmas contests and free prizes. Toys kids kites frisbees boomerangs UFO toys kids kites frisbees UFO contests and free prizes. Shopping malls toy stores beach fun outdoors recreation Christmas