Archived Pages from 20th Century!!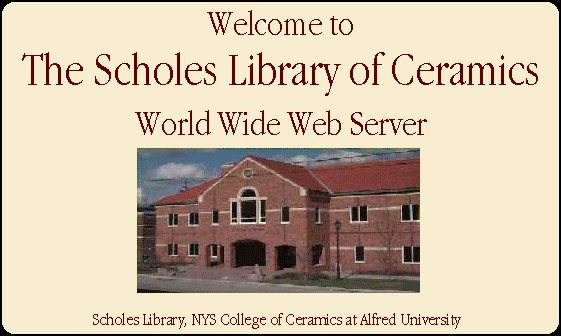 If You'd Prefer...You May Click on Graphic Above to Use Our Library Imagemap Directory
---
---
World Wide Web Pages will take a variety of different appearances depending on which Web Browser you are using. The Scholes Library Web Pages are formatted for and best viewed with the Netscape Web Browser

Keyword Search for Documents on Our Server
---
Sign Our Guestbook
---
Recommend a New Resource for the Scholes Pages
---
Visit The Scholes Library Gopher
---
A List of "Tools For Searching the World Wide Web"
---
Take a look at our Server Usage Statistics

This Server is FOREVER under construction.....Our thanks to Joel Bartley , a computer science major at A.U., whose UNIX programming expertise has been essential to the development and implementation of this web server.
---
If you have any questions or comments regarding the Scholes Library WEB Pages, please direct them to:
Mark Smith - Information Systems Librarian
Scholes Library
NYS College of Ceramics at Alfred University
2 Pine St.
Alfred, NY 14802
[email protected]
---