Archived Pages from 20th Century!!
Updated 7/2/96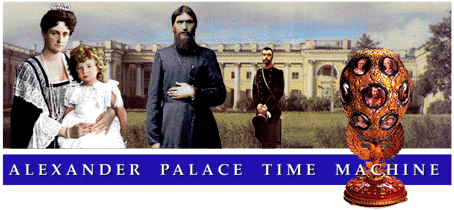 Welcome to the Alexander Palace, home of the last Tsar of Russia and his family in the town of Tsarskoe Selo outside St. Petersburg. Below are a number of choices to select from, beginning with links to maps of four palace regions you can tour:


Who Lived Where? Color-coded First Floor Palace Plan

PLUS

Palace Treasures | Fabergé in the Mauve Room | Map of Tsarskoe Selo
Imperial Cathedral plus Tsarskoe Selo churches | Anna Vyrubova's House
The Palace Today - the Race to Save it | Brief Palace History | Staff and Servants
Rooms of Elizabeth Fyodorovna | English Suite | World Monuments Fund Appeal
WMF names the Palace an endangered World Cultural Treasure
Characters in the Story of the Palace
30 THUMBNAIL IMAGES LINKED TO BRIEF BIOGRAPHIES.
SLOW MODEM? FOR A TEXT ONLY VERSION CLICK HERE.


Fare war rages, get low fares now, click here!
© 1996, Bob Atchison