Archived Pages from 20th Century!!
</p>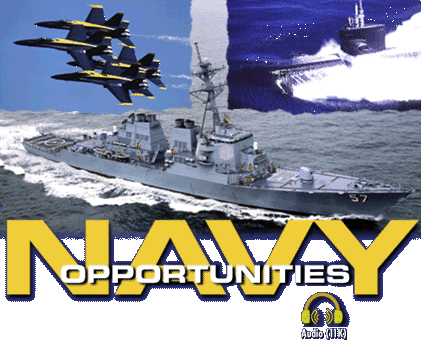 JOBS IN THE FLEET:

Click here for more information about a wide variety of Navy Jobs. Whether you're a high school or college graduate, the Navy has a great opportunity for you.

Physicians. Nurses. Dentists. Medical Specialists. The Navy needs you - and you'll see just how much! Click here for more information.

If you're consistently short of the green stuff needed to pay for college or maybe looking for a different way to earn your degree, the Navy can help. Click here to see how the Navy can help you track down a college degree.

Ready to try your luck? The Navy has exciting jobs in the most exotic places. Check this section out to see where the Navy may take you today. The only question will be trying to guess what to pack.

We want to hear from you. Fill out the reply form, and we'll send you free information right away!

The Naval Reserve has many of the same programs available in the regular Navy, but some unique advantages as well. If you're interested in investigating these opportunities, click here.

Nervous about how your current or future employer will look after you? The Navy takes care of its own. Check out Navy Benefits to learn more about what the Navy has to offer.

Scan What's New in the Navy. Information on people or programs will be made available here and will change regularly, so make sure you bookmark this page for regular review.