Archived Pages from 20th Century!!
The Ancient City of Athens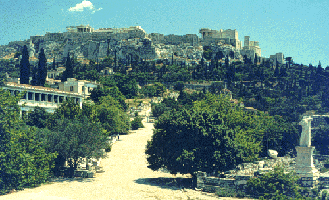 All images ©1995 by Kevin T. Glowacki & Nancy L. Klein
Department of Classical Studies
Indiana University, Bloomington, In 47405
---
THE ANCIENT CITY OF ATHENS is a photographic archive of the archaeological and architectural remains of ancient Athens (Greece). It is intended primarily as a resource for students of classical languages, civilization, art, archaeology, and history at Indiana University who may wish to take a "virtual tour" of the chief excavated regions and extant monuments. We also hope that this site will be useful to all who have an interest in archaeological exploration and the recovery, interpetation, and preservation of the past. At present (August 1995), the goal is to provide as many images as time and space allow, grouped according to the main topographical areas of the city. Throughout the 1995-1996 academic year, brief descriptive entries for each image will be added.

©Copyright
All of the images presented here are from the personal slide collection of Kevin T. Glowacki and Nancy L. Klein. You are free to download and use unmodified copies of these images for non-commercial purposes providing that you include a reference to this site and copyright notice. If you use any of these images for presentations or papers, or have any comments or suggestions, we would appreciate hearing from you by email or post. (We especially enjoy email from students & teachers in grade school & high school!) KALO TAXIDI!
---
Topography & Monuments of Ancient Athens
The Kerameikos: Kerameikos Cemetery, Public & Private Grave Monuments, "Themistoklean" Wall, Sacred Gate, Dipylon Gate, Pompeion.

The Agora: Commercial & Civic Center of Ancient Athens: Royal Stoa, Stoa of Zeus Eleutherios, Temple of Apollo Patroos, Metroon, Bouleuterion, Tholos, Monument of the Eponymous Heroes, Hephaisteion, Altar of the 12 Gods, Stoa of Attalos, Church of the Holy Apostles.

The Roman Agora, Tower of the Winds, & the Library of Hadrian: Gate of Athena Archegetis, Colonnade, Fountain, Propylon, "Agoranomion", Public Latrines; Water Clock of Andronikos, The Eight Winds.

The North Slope of the Akropolis: "Longs Rocks" & the Northwest Caves (Caves of Apollo & Pan), Sanctuary of Eros & Aphrodite, Rock-cut Niches, Peripatos Inscription.

The East Slope of the Akropolis: East Cave, Rock-cut Beddings for Altars & Monuments, The "True Aglaureion"?

The Olympieion & Southeast Athens: Temple of Olympian Zeus, "Peisistratid" column drums, Panathenaic Stadium.

The South Slope of the Akropolis & the Theater of Dionysos (IN PROGRESS)

The Akropolis: The Propylaia, Temple of Athena Nike, the Parthenon, the Erechtheion. (IN PROGRESS)

The Pnyx: Meeting Place of the Ancient Athenian Democratic Assembly, Bema (Speaker's Platform), Sanctuary of Zeus Hypsistos.
---
THE ANCIENT CITY OF ATHENS has been ranked as one of the TOP 5% of all WWW sites by Point Survey!!!
---

---
Copyright ©1995 by Kevin. T. Glowacki & Nancy L. Klein
---
Since December 1,1995

visitors have passed through this site.